This Is All I Ask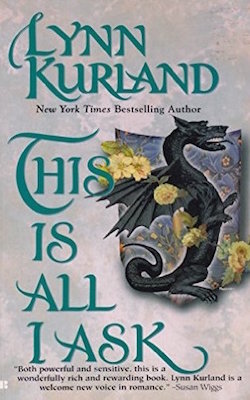 The de Piaget Family
Set near the Scottish border at a rugged castle on the edge of the sea, this is the story of a courageous lord who lost everything he held dear, of a strong young woman willing to sacrifice everything for happiness, of two lost souls who find in each other a reason to live again, to laugh again, and to love for the first time…
Gillian of Warewick knows no other treatment than the terrible physical and mental abuse issued by her father. So when he arranges a match for Gillian with Christopher of Blackmour, she is fearful.
Blackmour is rumored to be an evil sorcerer but when Gillian meets him, she finds him to be far more of a man than her father is. It is his unwillingness to be a lover to Gillian, though, that leads her to discover what they have in common…
That Blackmour has as many psychological scars to heal as she has physical.